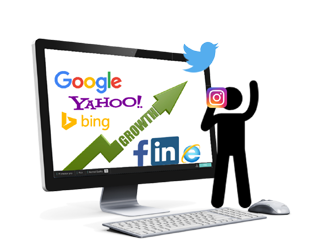 Swastik Info established with a vision to become a leading player in the field of reliable Web solutions and affordable IT Services. Now, Swastik Info is Trusted provider of Internet solutions with comprehensive range of web services like Web Designing, Web Development, Domain Name Registration in almost every (.) dot extensions, Web Hosting (Windows and Linux), FTP Server Space, E-Mail Hosting Solutions and SSL Certificates.
Swastik Info gained recognition with high quality projects on the local Indian market as well as outside India including Canada and Singapore. Swastik Info offers multiple services from Website Designing, Online Promotion and Branding to Website Development Services and Interactive Marketing, at the same time, spanning throughout the World. We are situated at center of the India, Indore (M.P).
---
Since inception, we provide the excellent service for each of our customers. We see it as an important part of our services to understand our customer's requirement and proactively meet their needs. Our foresight has contributed much to our success. Our aim is "complete customer satisfaction".
Whether you want an attractive compact budget website or a dynamic, e-commerce portals - we have a solution for it. For all our services, we emphasize on creation of business benefits to our clients and identifying the targetted area of concentration. We guide our clients through a step-by-step process to ensure their effective web presence throughout the World.
Web Hosting
We provide Shared and Virtual Web Hosting Services (both Windows and Linux) that range from simple HTML sites to Dynamic business web portals. We provide Plesk and Cpanel for managing your hosting. We firmly believe in Quality Service and long term Relationship with our clients. We have expertise in Windows and Linux web server. We ensure 99% uptime guarantee. We register domain names with the ICANN approved Indian Registrar.
Infrastructure
We are located at Indore, the Heart of MP, India, which has a huge connectivity to the international bandwidth and plenty of resource for potential software professionals. Our online support extends our service through out the daytime on all the days.
Customers
Swastik Info has secured 400+ Customers with more than 800 websites running on different fields, such as Education and IT Industry, Consultants, Real Estate, Trusts and Organizations, Engineering and Manufacturing Sector, Travels and Tourism, etc.
Our customers are appreciating us for the following :
Stable & efficient servers
Reasonable Charges
Reliable Service
Excellence in Ethics